Thanksgiving Celebration with the Carias family!
Join us as we thank God together!
Saturday, November 18 at 2 PM - 5 PM

3759 E 57th St, Maywood, CA 90270
Dear Brothers, Sisters, Allies:
This morning, July 24th, Pastor Noe Nolberto Carias Mayorga of the Iglesia Pentecostal Cristo la Roca de Poder Asambleas de Dios was detained by Immigration and Customs Enforcement in Los Angeles. Pastor Carias:
Is an Evangelical Assemblies of God Pastor

Is married to a US Citizen with two citizen children ages 5 and 7

Is facing deportation solely because he entered the US as a teenager without permission 25 years ago

Has pending motions to remove his deportation orders plus a motion to re-open case

Had a stay of removal granted under former administration

Had a renewal petition for a stay of removal denied last week

Was detained this morning and is facing deportation
We will not stand by while his family is separated and his ministry harmed.
Please help:
Attend a public prayer vigil;
In Los Angeles:
August 7th, 10am-12:00pm, Federal Building, Offices of ICE, 300 N. Los Angeles, CA 90012
If you can attend, please let us know which day(s) you will be there at the form on www.matthew25socal.org/noevigil.
If you are somewhere else in the country, please join us in prayer, ideally in front of your local ICE offices. If you gather in prayer, please take a picture, post a picture with this hashtag #libertad4noe or #pray4noe and send it to matthew25socal.org with the date and place noted.
We will continue to update you on upcoming and ongoing prayer vigils until he is released and his family reunited.
If you are in Southern California, contact the ICE leadership:
David Marin, David.a.marin@ice.dhs.gov, 213-830-5931, Field Office Director at DHS/ICE ERO, Los Angeles District Office
Jorge Field, Jorge.R.Field@ice.dhs.gov, 213-830-7911, Assistant Field Office Director, Enforcement and Removal Operations, Los Angeles Field Office, Media, Congressional and Outreach
Noe Nolberto Carias Mayorga, DOB: 4/26/75, A-Number: A029 274 285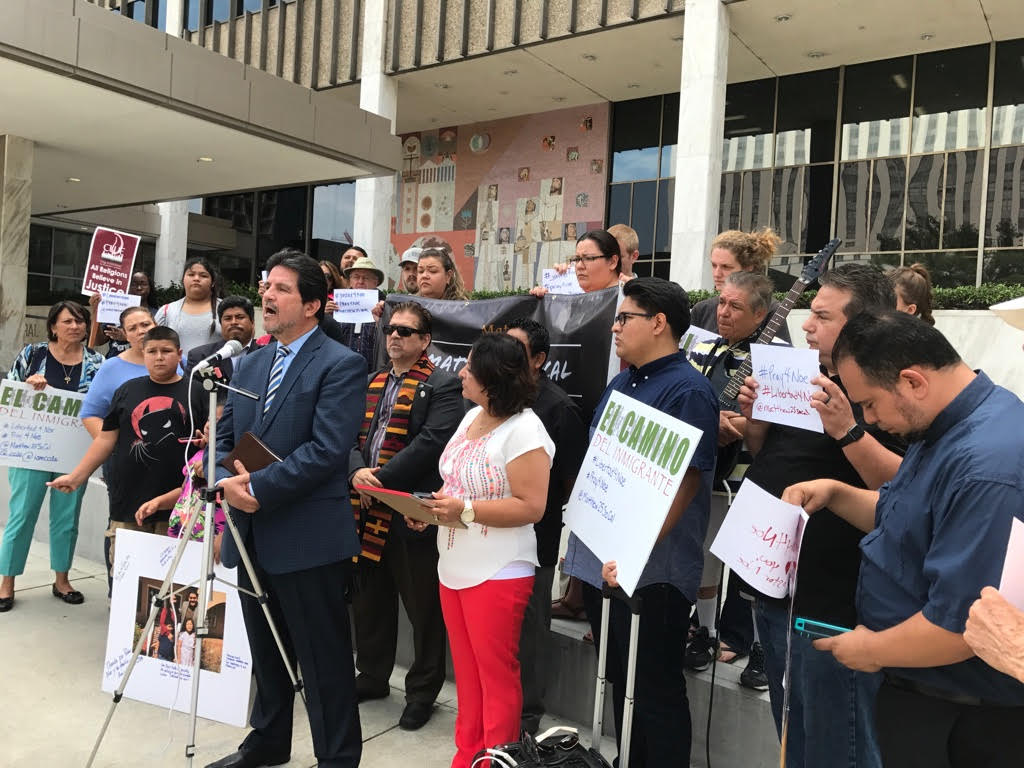 Script: I am (Title/Name) from (Church/Ministry/Organization) and I am calling to ask for the reléase from detention of Pastor Noe Carias Mayorga who has qualifying cases through his marriage to a US citizen and his ministry as an Assemblies of God Pastor, has no criminal history and who has motions pending for removal of 25 year old deportation orders resulting from entering without permission as a teenager.
Send an email and call the member of the House or Senate Homeland Security Committee closest to you and ask for their help:
Talking Points:
We are calling (writing) on behalf of Pastor Noe Carias who has been detained by ICE.

He is an Assemblies of God Pastor ministering to a congregation, married to an American citizen with citizen children

His only offense was entering without permission 25 years ago as a teenager

He had a stay of removal for the past two years

His lawyer has filed motions to remove his deportation orders and to re-open his case

We are asking for you to investigate the case of Pastor Noe Carias, to advocate for him to be released from detention and to initiate the review and revision of applicable Homeland Security priorities.
List of Republican members of the Homeland Security Committee of the House:
Alabama: Mike Rogers, District 3
Arizona: Martha McSally, District 2
Florida: John Rutherford, District 4
Kansas: Ron Estes, District 4
Louisiana: Clay Higgins, District 3
Missouri: Bennie Thompson, District 2
New York: Peter King, District 2, John Katko District 24, Dan Donovan, District 11
Pennsylvania: Lou Barletta, District 11, Scott Perry, District 4, Brian Fitzpatrick, District 8
South Carolina: Jeff Duncan, District 3
Texas: Lamar Smith, District 21, Will Hurd, District 23, John Ratcliffe, District 4, Michael McCaul, District 10
Wisconsin: Mike Gallagher, District 8
Democratic members of the Homeland Security Committee of the House:
California: J. Luis Correa, District 46. Nanette Barragan, District 44
Florida: Val Butler Demings
Louisiana: Cedric L. Richmond, District 2
Massachusetts: William R. Keating, District 9
New Jersey: Donald M. Payne, District 10, Bonnie Water Coleman, District 12
New York: Kathleen Rice, District 4
Rhode Island: James R. Langevin, District 2
Texas: Filemon Vela, District 34
Republican members of the Homeland Security Committee of the Senate:
Arizona: John McCain
Kentucky: Rand Paul
Montana: Steve Danes
North Dakota: John Hoeven
Ohio: Rob Portman
Oklahoma: James Lankford
Virginia: Thomas Garrett
Wyoming: Michael Enzi
Democratic members of Homeland Security Committee of the Senate
California: Kamala Harris
Delaware: Thomas R. Carpen
Michigan: Gary Peters
Montana: Jon Tester
North Dakota: Heidi Heitkamp
New Hampshire: Margaret Hassen
Blessings,
Matthew 25/Mateo 25 Southern California, the Southern District Assemblies of God, CLUE, LA Voice, COPALA, La Red de Pastors del Sur de California and UNIDOS
PLEASE SIGN UP FOR A VIGIL ON:

MONDAY 8/7 (10AM-12PM, 300 N. LOS ANGELES ST.)